Liquid cargo vessels are ships which carry cargo in liquid form. Possible cargoes are crude oil, oil products like gasoline, vegetable oil, wine, orange juice, acids, chemical substances, gas under ambient temperatures and atmospheric pressure and etc. These are all carried in different type of liquid cargo vessels.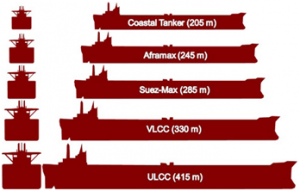 Crude Oil Carrier
Vessels specialised in the transport of crude oil. Large crude oil tankers can be divided in 4 classes:
Ultra Large Crude Carrier ( ULCC)
ULCC or Ultra Large Crude Carriers are the largest shipping vessels in the world with a size ranging between 320, 000 to 500, 000 DWT. Due to their mammoth size, they need custom built terminals. As a result they serve a limited number of ports with adequate facilities to accommodate them. They are primarily used for very long distance crude oil transportation from the Persian Gulf to Europe, Asia and North America. ULCC are the largest shipping vessels being built in the world with standard dimensions of 415 meters length, 63 meters width and 35 meters draught.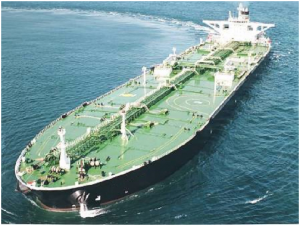 Very Large Crude Carrier ( VLCC)
VLCC have a size ranging between 180, 000 to 320, 000 DWT. They are capable of passing through the Suez Canal in Egypt, and as a result are used extensively around the North Sea, Mediterranean and West Africa. VLCC are very large shipping vessels with dimensions of up to 470 m ( 1, 540 ft) in length, beam of up to 60 m ( 200 ft) and draught of up to 20 m ( 66 ft). But the standard dimensions of these ships range between 300 to 330 meters in length, 58 meters breath and 31 meters in depth. They are known for their flexibility in using terminals and can operate in ports with some depth limitations.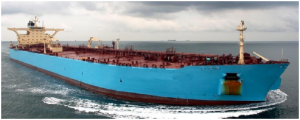 Suezmax
Named after the famous Suez Canal, Suezmax are medium to large-sized ships with a deadweight tonnage ( DWT) between 120, 000 to 200, 000. They are the largest marine vessels that meet the restrictions of the Suez, and are capable of transiting the canal in a laden condition. Prior to 1967, the size of suezmax vessels was restricted to 80, 000 DWT, but the maximum was increased to 150, 000 DWT in 1975. After the further deepening of the Suez Canal from 18 m ( 60 ft) to 20. 1 m ( 66 ft) in 2009, a suezmax of up to 200, 000 DWT or even more can easily pass through it. Future plans of further deepening the canal's draft to 21. 3 m ( 70 ft) may lead to redefining of suezmax vessels' specifications in the coming years.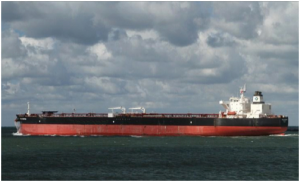 Aframax
Aframax is a medium-sized crude tanker with a dead weight tonnage ( DWT) ranging between 80,000 and 120, 000. The tanker derives its name from AFRA which stands for Average Freight Rate Assessment. AFRA system was created in 1954 by Shell Oil to standardise contract terms.
Though relatively smaller than Very Large Crude Containers ( VLCC) and the Ultra Large Crude Containers ( ULCC), the tanker has a cargo carrying capacity between 70, 000 and 100, 000 metric tonnes. The average cargo carrying capacity of Aframax is approximately 750, 000 barrels.
Due to their favorable size, Aframax tankers can serve most ports in the world. These vessels serve regions which do not have very large ports or offshore oil terminals to accommodate very large crude carriers and ultra large crude carriers. Aframax tankers are just perfect for short to medium haul crude oil transportation.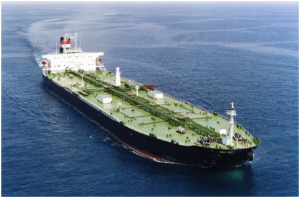 Aframax tankers are extensively used in areas of lower crude oil production such as in Non- OPEC countries which lack large harbors and canals to accommodate VLCC and ULCC class of tankers. Their main areas of operations include South American oil cargo exports to the US Gulf region through the Caribbean, North African exports to Southern Europe through Mediterranean, exports from former Soviet Union Republics to Northern Europe through the Black Sea and the North Sea, and South East Asian exports to the Far East. As Aframax vessels are mainly used in transporting crude oil, they are sometimes called 'dirty tankers'.
Oil Tanker Size Categories

AFRA Scale

Flexible Market Scale

Class

Size in
DWT

Class

Size in
DWT

General Purpose
Tanker

10. 000
24. 999

    Product Tanker

10. 000
60. 000

MR Tanker
Medium Range

Tanker

25. 000
44. 999

    Panamax

60. 000
80. 000

LR1 Tanker
Large Range 1

45. 000
79. 999

    Aframax

  80. 000
120. 000

LR2 Tanker
Large Range 2

  80. 000
159. 999

     Suezmax

120. 000
200. 000

VLCC
Very Large Crude

Carrier

160. 000
319. 999

     VLCC

200. 000
320. 000

ULCC
Ultra Large Crude

 Carrier

320. 000
549. 999

     ULCC

320. 000
550. 000
Product Tankers
This type of vessel carries the refined products of refineries and petrochemical industry. Such vessels may carry different products simultaneously. There are higher number of tanks/holds available than by the crude oil carriers. Every tank/ hold has its own piping system and its own cargo pump. The cargo tanks are surrounded by ballast tanks such as the crude carriers. Possible cargoes for these type of vessels are: gasoline, kerosene, diesel oil, lubricating oil etc.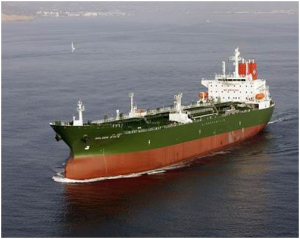 Chemical Tankers
Possible cargoes for these vessels are acids, alkaline, alcohol, monomers, chlorinated alkenes, other chemical substances.
This type of vessel has a higher safety grade than a product tanker. The cargo tanks are separated from the outer shell/ double bottom by ballast tanks. Between the cargo tanks, cargo tank, engine room and forepeak there's a narrow, empty space called cofferdam meant to create a safe division so that in case of leakage the consequences are reduced. A cofferdam is also required in case two cargo tanks are filled with different, incompatible products. In the cofferdam there' s usually a sounding pipe, a bilge connection and a connection with open air.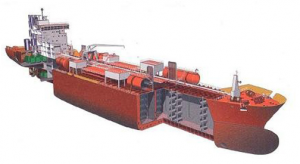 The chemical tankers are categorized in classes subject depending on the protection they offer against pollution: I for the most toxic cargoes, II and III for less dangerous substances, for instance.
The cargoes can be divided in classes of toxicity: A, B, C and D; A is the most toxic and D the least; the degree of toxicity and which ships are allowed to carry such substances is well defined by the IMO.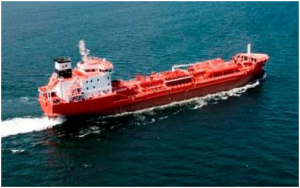 LNG/LPG Carriers
These are the gas carrier vessels. The gas cargo is pressurized or brought under low temperatures so that it becomes liquid, which increases the transported quantity; according to the method used to liquefy the gas, this type of vessel can be divided in 3 categories:
Pressurized Ships the cargo is transported under pressure at atmospheric temperature; fully pressurized vessels are mostly used for Liquefied Petroleum Gas ( LPG) ; the cargo is carried in cylindrical tanks under ambient temperature but pressurized such that it becomes liquid;
Fully Insulated / Fully Refrigerated Ships the cargo is carried at atmospheric pressure at low temperature; a special type of fully refrigerated ship is the Liquefied Natural Gas ( LNG) carrier;
Semi- pressurized/semi- refrigerated ships The cargo is transported at low temperature under pressure; this type of vessel is a hybrid between fully pressurized and fully refrigerated and it has been designed when materials which could withstand low temperatures ( cryogenic steels) became available; an example of this type of vessel is the ethylene carrier.