Bulk Carriers
These vessels carry dry( grains, fertilizers, phosphates and ores) or wet ( chemicals, orange juice, refined petroleum products) bulk cargo. Dry bulk cargo types are classified in IMSBC book.
There are also bulk carriers which can also function as tankers; such vessels are called Ore Bulk Oil ( OBO) carriers and can carry liquid cargo in wing tanks or dry bulk cargo in the centre holds.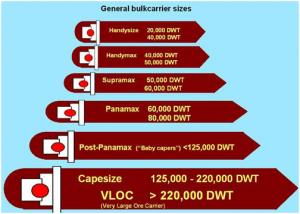 The ships that designed to carry cargo in bulk called bulk carriers. Bulkers can be segregated in 6 size categories:
Handysize
Handy size vessels have a carrying capacity of up to 39, 999 dwt. These vessels are primarily involved in carrying minor bulk cargoes. These vessels are primarily involved in carrying minor bulk cargoes. Today, most of handysize vessels operate within regional trading routes. Handy size vessels are well suited for small ports with length and draft restrictions. Their cargo gear enables them to service ports lacking the infrastructure for cargo loading and unloading. Handysize vessels are primarily built by shipyards in Japan, South Korea, China, Vietnam, India and the Philippines. In addition, some other countries also have the expertise and capacity to build small- sized bulk carriers. The most typical handysize ships being built today are of size 32, 000 DWT with a draught of 10 m ( 33ft) . They boast five cargo holds with four on- deck cranes for cargo handling. Some of handysize ships are also equipped with stanchions for easy loading of wooden logs on deck.

Handymax/ Supramax
Handymax and Supramax are bulk carriers with a capacity less than 60,000 dwt. A Handymax vessel typically has a capacity between 35,000 and 50,000 DWT, while Supramax vessels are relatively bigger in size with 50,000 to 60,000 DWT. Modern handymax designs are typically 52,000-58,000 DWT in size. These bulkers are well suited for small ports with length and draught restrictions, or ports lacking transshipment infrastructure. As a result, Handymax and Supramax bulkers represent the majority of bulk carriers over 10,000 DWT. Though these bulkers are primarily used for carrying dry cargo such as iron ore, coal, cement, finished steel, fertilizer, and grains, sometimes the category is also used to define small-sized oil tankers.
In addition to Handysize vessels, Handymax and Supramax are counted amongst the smallest bulk carriers in operations today. A handymax vessel is typically 150- 200 m ( 490- 655ft) long with 5 cargo holds and 4 cranes of 30 metric ton lifting capacity. As they are equipped with on- deck cranes, they provide best options for carrying cargo to less sophisticated ports. These bulkers are used for transporting small volume of dry cargo, even allowing different kind of cargo in different holds.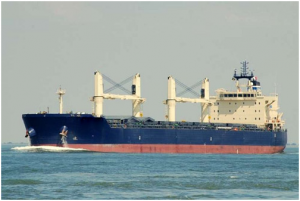 Among handymax category, Supramax vessels are in great demand from commodity shippers due to their larger cargo carrying capacities approaching that of Panamax vessels, and on- board cargo handling flexibility. Their favorable size allows them to trade in a much wider range of world ports and terminals. According to estimates, Supramax consists of over 90% of handymax vessels being built today. Handymax vessels are primarily built in the Asian shipyards, mainly in Japan, South Korea and China.
Panamax
Panamax vessels have a carrying capacity of 60, 000- 79, 999 dwt. These vessels carry coal, iron ore, grains and to a lesser extent, minor bulks, including steel products, cement and fertilizers. Panamax vessels are able to pass through the Panama Canal, making them more versatile than larger vessels with regard to accessing different trade routes. Most Panamax and Post- Panamax vessels are gearless, and therefore must be served by shore– based cargo handling equipment. However, there are a small number of geared vessels with onboard cranes, a feature that enhances trading flexibility and enables operation in ports which have poor infrastructure in terms of loading and unloading facilities.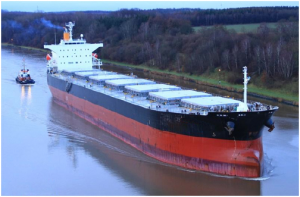 Post- Panamax
Post- Panamax vessels have a carrying capacity of 80, 000– 109, 999 dwt. These vessels tend to have a shallower draft and larger beam than a standard Panamax vessel with a higher cargo capacity. These vessels have been designed specifically for loading high cubic cargoes from draught restricted ports, although they cannot transit the Panama Canal.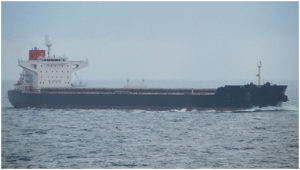 Capesize
Capesize vessels have a carrying capacity of 110 ,000- 199, 000 dwt. Only the longest ports around the world possess the infrastructure to accommodate vessels of this size. Capesize vessels are primarily used to transport iron ore or coal and, to a much lesser extent grains, primarily on long- haul routes.
Capesize are large- sized bulk carriers and tankers typically above 150, 000 deadweight tonnage( DWT) . They are much bigger than Panamax and Suezmax vessels both in terms of draught size and DWT, and so they are categorized under VLCC, ULCC and bulk carriers. Nowadays, Capesize vessels with a DWT of up to 400, 000 DWT are being built to meet the demands for ultra- large bulk carriers.
Capesize vessels are too large in size (especially their draught) to pass through the Panama Canal. As a result, they must transit via Cape Horn to travel between the Atlantic and Pacific oceans. Earlier, they were not fit to pass through the Suez Canal and required to take a long root via the Cape of Good Hope to travel between the Indian and Atlantic Oceans. But the deepening of the Suez Canal from 18 m ( 60 ft) to 20 m ( 66 ft) in 2009 permits most capesize vessels to pass through it. Due to their large dimensions and deep draughts, capesize ships are suitable to serve only large ports with deep water terminals in the world. As a result, they can serve a comparatively small number of ports in the world. They are commonly used in transportation of coal, iron ore and commodity raw materials. Because of this fact, they are often termed as bulk carriers rather than tankers.
Very Large Ore Carriers ( VLOC)
In the subcategory of capesize vessels include the very large ore carriers ( VLOC) and very large bulk carriers ( VLBC) of above 200, 000 DWT. These vessels are mainly designed to carry iron ore. According to estimates, 93% cargo of capesize bulkers comprises of iron ore and coal. While a standard capesize vessel is around 175, 000 DWT, bulkers up to 400, 000 DWT or even more have been built in recent times to meet the growing demand for bulk ore transportation carriers.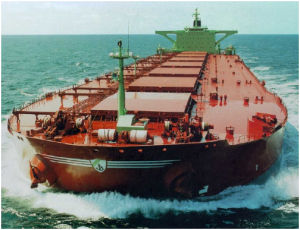 There is a huge demand for large capesize vessels in the world today. The order book for capesize bulkers larger than 200, 000 DWT has grown manifold in recent years. But with few of world' s ports having infrastructure to handle ships larger than 200, 000 DWT, port access has emerged as a major problem for capesize vessels. At present, most of large capesize bulkers are being used for ore transportation between Australia and China, and Brazil and China.
Container Vessels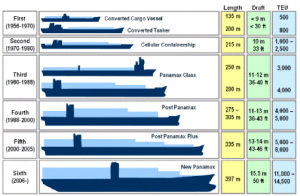 In container vessels cargo is carried in containers. A container has the usual dimension of 20 or 40 feet long and 8 feet width. These vessels are double hulled with large hatch openings. Containers can both be stored on deck and inside the cargo hold. Some of these cargo holds are equipped in a way that the lashing of the containers is not necessary. Containers loaded on deck are connected to each other by twist locks and additionally first three layers are lashed by steel lashings.
Some of the container vessels might be equipped with cranes to be able to handle the cargo operation. These are called geared container vessels. The capacity of a container vessel is defined by using the term TEU( twenty feet equivalent unit). The new generation container vessels have the capacity of 14, 000 TEU and already 18, 000 TEU- vessels have been ordered.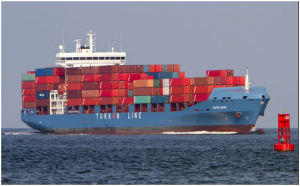 Multi Purpose Vessels
Main function and characteristics of a multi- purpose vessel include:

It transports a large variety of cargo (e. g. containers, general cargo, dry bulk cargo, wood, cars, heavy items, etc. )
Pontoons are used to change the layout of the cargo hold, to fit the cargo. These pontoons can be used as tween decks or bulkheads.
Multi- purpose vessels can be divided in 4 categories:
Vessels with cargo gear/ lifting gear: advantage they can work in ports and zones, where no cranes are available;
Vessels without cargo gear dependent on shore- based lifting gear;
Coastal trade liners: Have a smaller draft
Sea- river vessels:

Have a small air draft in comparison to other vessel of the same size, in order to be able to enter the inland waters; the masts can be lowered and also a wheelhouse which can be adjusted hydraulically in height in order to enable the vessel to pass under a bridge.
Roll-on/Roll-off Vessels
Ro- Ro vessels facilitate the transport of mobile cargo such as, cars, trucks, trailers, trains. Loading and discharging operations are carried out via ramps which are usually at the stern of the vessel. The decks are often adjustable in height. Cargo is fastened on the deck by lashings in order to prevent them from moving. There are different types of vessels derived from a Ro- Ro such as Con- Ro' s and Ro- Pax' es.
Con- Ro transports mobile cargo as well as containers. Ro- Pax is a combination of a Ro- Ro with a passenger vessel with the example of ferries and short cruise vessels.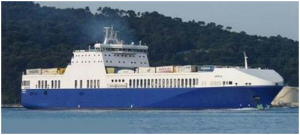 Refrigerated Vessels
A reefer ship is a cargo vessel specialised in the carriage of perishable cargo that requires as transport condition other temperatures than the ambient temperature usually lower temperatures. The product range these vessels are carrying includes: fruit, vegetables, meat, fish, dairy products and sometimes medical supplies. Nowadays the carriage of products has progressed to containerised carriage, replacing the former transport possibilities such as bins (e. g. for the transport of bananas) and boxes, resulting in increased of handling efficiency.
Refrigerated containers have built- in refrigeration system which needs to be plugged into the ship' s electricity system (which requires of course a larger power capacity). Ventilation of the cargo holds is very important because heat excess has to be removed units.
Also, when fruit is transported, the composition of the air needs to be controlled in order to control the ripening process of the fruit.
In comparison to other types of vessels, refrigerated ships have:
smaller hatch openings (length, width and height);
more decks;
lifting gear.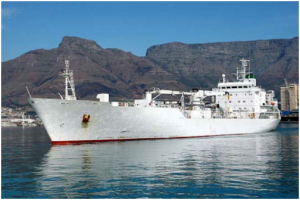 Cattle Carrier Vessels
Cattle ships transport livestock, such as sheep, cows, goats, camels and etc. Holds of these ships are set up stables and there should be a proper ventilation system installed. The rolling period of these vessels are longer in order to prevent the animals from breaking their legs.